Crossposted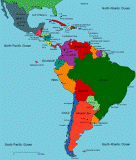 Welcome to the Carnival of Latin America and the Caribbean. If you would like your links included, please email me: faustaw2 "at" gmail "dot" com.
This week's big news:
Ecuador defaults on its foreign debt
, basically because it doesn't want to:
And while developing world economies have taken a sharp turn for the worse in recent months, Ecuador is ceasing payments not because the oil-rich country cannot afford to pay but because it has made a political decision not to.
The default is Ecuador's second in a decade and seventh in its 178-year history. More links and posts below.
LATIN AMERICA
The Real Latin-American Left: One We Can Work With
Caracas Russians, Managua Misrule
Latin American Democrats Need U.S. Support
Free trade is one way to help prevent the resurgence of autocracy in the region.
ARGENTINA
Economic Storm Batters Argentina's Breadbasket
Sharp Price Drop Brings Sudden End To Good Times
BOLIVIA
Observatorio de Medios de Bolivia reveló que suman 245 los ataques a periodistas en el último año; alarmante crecimiento desde septiembre de 2008
Evo admite que la Unasur no es plenamente legal
Via
American Digest
,
"Coca Si, Cocaina No"
. Let's hope Aldana Cohen is better informed about his topic than he is about Coca Cola. Coca Cola hasn't contained any cocaine
since 1929
.
BRAZIL
Israel's El Al plans direct flights to Brazil
CHILE
A heroic pooch
COLOMBIA
Alleged Colombian coke kingpin in U.S.
Reputed one-time Colombian cocaine kingpin Diego Leon Montoya Sanchez is in Florida after being extradited from his South American homeland, U.S. officials say.

Known as "Don Diego," Montoya Sanchez allegedly once commanded the North Valley cartel, a narco-trafficking empire that exported at least 1.2 million pounds of cocaine to the United States. But Friday he was sitting in a tiny federal jail cell in Miami, The Miami Herald reported.

U.S. Attorney R. Alexander Acosta said the Colombian's extradition marked a historic point in efforts by the United States to smash the vast cartel, saying Montoya Sanchez's arrest was the most significant since the convictions of brothers Gilberto and Miguel Rodriguez Orejuela, the 1980s leaders of Colombia's Cali cartel.
CUBA
Allegations of Biological Weapons Research in Cuba Need Clearing Up
Guantanamo's Jihad: The Show Begins…
Elián González marks his 15th birthday
¿Cumpleaños o aniversario?
Obama Should Put the Castros in Their Place
Vladimir Alejo Miranda, Cuban Political Prisoner of the Week, 12/14/08
Buques rusos atracarán en Cuba por primera vez desde caída de URSS
Russian ships landing in Cuba for the first time since the fall of the USSR.
Russian navy: Russian warships to visit Cuba
ECUADOR
The return of the 1980s?
Ecuador decides to stiff creditors
ECUADOR DEFAULTS ON FOREIGN DEBT
Ecuador Default May Hit 'True Monsters' Harder Than Argentina
What Did the U.S. Congress Do With Correa's Propagandists and Ministra Viteri?
HAITI
Nutritional value of World Food Program rice distributed in Haiti questioned
MEXICO
Arrested: Suspected Killers of Sheriff's Deputy. But Was It Ordered by the Mexican Mafia?
Mexico: Growing Terror and Close to Collapse
NICARAGUA
More backyard fun
PARAGUAY
Urgent prayer request
PERU
Innocents Die in the Drug War
PUERTO RICO
Who let the big cat out of the bag?
Puerto Rico searches for panther prowling suburbs
Wildlife officials patrolled streets and undeveloped lots in a sort of suburban safari Sunday, searching for a nocturnal predator that has mauled a sheep, ripped apart chickens and dominated newspaper headlines in the tropical U.S. territory since last week.
I didn't know there were any sheep or chickens in Rio Piedras, either.
VENEZUELA
Miguel Octavio was part of a
Round Table discussion at the White House on Human Rights Day
Systematic abuse and compulsive lies
A great Venezuelan gets an award
The ultimate idiotic conspiracy theory: The US created credit crisis to get back at Hugo and other revolutionaries
Take your stinking paws off me you damn dirty ape
Venezuela Debt Rating Outlook Cut to Negative by S&P
Black-Out Blights Venezuela for the 4th Time This Year
Power Outage in Caracas Brings Out Social Traits
Via Brazilian Neocon, Jaime Bayly on Chavez's Alo Presidente's diarrhea program, part 1 (in Spanish)
Part 2
AMERICAN POLITICS
Texas Hispanics upset with Democrats
ENTERTAINMENT
Killer Chic: Hollywood's sick love affair with Che Guevara
Che what
Special thanks
to Ada,
Baron B.
,
Eneas
, Larwyn and Maggie.
This week's podcasts and posts
Obama makes it to the Nativity scene
Soderbergh's Chegasm
Share on Facebook
Labels: Argentina, Bolivia, Brazil, Che Guevara, Chile, Colombia, Cuba, Daniel Ortega, Ecuador, Evo Morales, FARC, Haiti, Hugo Chavez, Latin America, Mexico, Nicaragua, Paraguay, Peru, Puerto Rico, Venezuela